Rainy days can be a drag, but with the right kids umbrella, they can also be a lot of fun. Finding the perfect
kids umbrella
can be a challenge, but with so many different styles, colors, and designs to choose from, there is something out there for every child. In this article, we will explore some of the best kids umbrellas on the market and what makes them so great.
One of the most important factors to consider when choosing a kids umbrella is safety. Look for umbrellas with rounded tips instead of pointed ones, and make sure they are made from durable, non-toxic materials. Some umbrellas even feature safety features like pinch-proof closures or easy-to-use child-sized handles.
Another important factor to consider is design. Kids umbrellas come in all sorts of fun and playful designs, from animals to superheroes to bright, colorful patterns. Choosing an umbrella with a design that your child loves can make rainy days a lot more enjoyable.
Size is also an important consideration. Make sure the umbrella is the right size for your child's height and build, so they can comfortably hold it and stay dry. Some umbrellas even feature adjustable shafts, so they can grow with your child.
Lastly, consider durability. Look for umbrellas made from sturdy materials that can withstand the wear and tear of everyday use. Features like reinforced ribs and waterproof materials can help ensure that the umbrella will last for years to come.
In conclusion, finding the right kids umbrella can make rainy days a lot more fun and enjoyable. When choosing an umbrella, consider factors like safety, design, size, and durability to find the perfect one for your child. With so many options available, there is sure to be an umbrella out there that your child will love.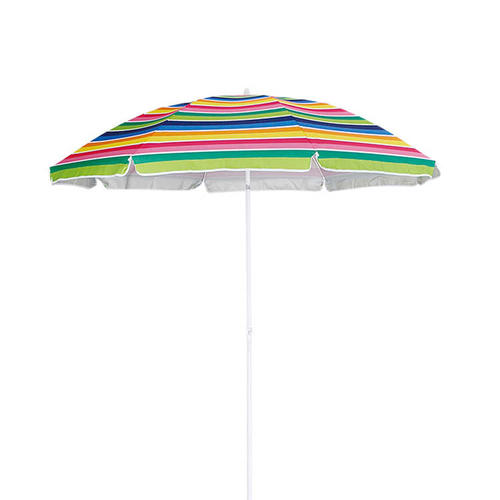 Packaging Details
Supply multi colored fringe beach umbrella parasol white stainless steel pole with tilt
1.beach sun shade parasol and umbrella
2.According to your requirements or PE bag
Port
NingBo/ShangHai
Zhejiang Hengyang Umbrella Co., Ltd. is a collection of outdoor leisure products design, development, production and sales as one of the company.
We located in Shangyu District, Shaoxing City, close to Xiaoshan Airport, the transportation is convenient.
Hengyang Umbrella operating in ISO 9001 Quality Management System, ISO14001 Environmental Management System.
Our HYB1814 Beach Umbrella with 120g Polyester Colorful Stripe Fabric and UV Coating and Tilt have BSCI, SEDEX, Walmart and BV, TUV, SGS Certification.
Our company was founded in 1999, now we have more than 35000 square meter workshop and more than 350 staff include 50 technicist.
Our main products have beach umbrella, garden umbrella, golf umbrella, children's umbrella, camping tent, leisure tent, gazebo etc. We have a worldwide sales network, Europe, Middle East, America, Asia, Africa, and Australia.