When it comes to outdoor camping, choosing the right tent is crucial for survival in harsh weather conditions. Whether you're camping in the mountains, desert, or forest, the elements can quickly turn a camping trip into a dangerous situation. Here are some important factors to consider when choosing the right outdoor tent.
First and foremost, it's important to consider the weather conditions you'll be facing. If you're camping in an area with a lot of rain or snow, you'll want to choose a tent with a waterproof or water-resistant outer layer. This will help keep you and your gear dry, even in heavy rainfall. Additionally, if you're camping in windy conditions, look for a tent with sturdy poles and a design that can withstand gusts of wind.
Another important factor to consider is the size of the tent. While it may be tempting to opt for a smaller, more lightweight tent, it's important to choose a tent that will comfortably accommodate you and your gear. Make sure to account for extra space if you'll be camping with others, and consider whether you'll need room to store gear or other supplies.
The material of the tent is also an important consideration. Many outdoor tents are made from lightweight materials such as nylon or polyester, but these materials may not be as durable as heavier fabrics such as canvas or cotton. However, heavier fabrics are often more bulky and difficult to transport, so it's important to find a balance between durability and portability.
When choosing an
outdoor tent
, it's also important to consider the ease of setup. You don't want to be struggling with a complicated tent setup in the dark or in the middle of a storm. Look for a tent with a simple, straightforward design that can be set up quickly and easily.
Finally, it's important to consider the overall quality of the tent. A high-quality outdoor tent will last for years and provide reliable protection in all weather conditions. While it may be tempting to opt for a cheaper, lower-quality tent, investing in a high-quality tent is a worthwhile investment in your safety and comfort.
In conclusion, choosing the right outdoor tent is crucial for surviving the elements while camping. Consider factors such as weather conditions, size, material, ease of setup, and overall quality when choosing a tent. With the right tent, you can enjoy the beauty of the great outdoors while staying safe, dry, and comfortable.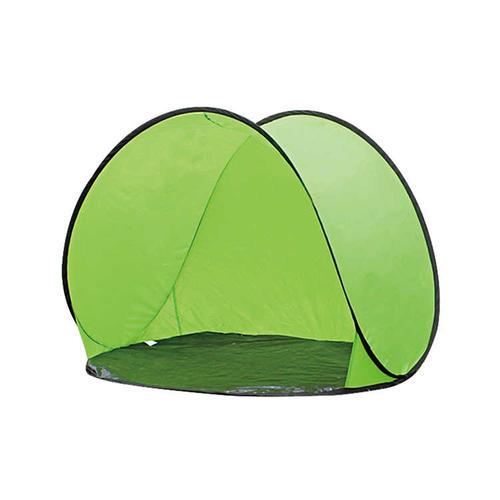 Place of Origin: Zhejiang, China
Brand Name: Hengyang
Product name: HYT003 Solid Color Pop-up Tent with PE Bottom——POP-UP Tent
Size: 150x120x105cm,200x150x110cm
Customerization/OEM: Accepted
Usage: Leisure, sports, camping
【Used Widely】: The open-door design and rear mesh window keep the tent cool and breathable, even in the heat of the summer heat. Perfect fit any activities at park, beach, lake, camping, hiking, fishing or weekend trip, sporting events, music festivals or for just relaxing in the back yard or at home.
【Innovative Pop-up Design】: Pop up automatically with no assembling required. The beach shade comes in a portable carrying bag so you can easily set up and fold up. Please keep your children or other fragile goods away from the tent while you are ready to open it. We will replace it for free if you receive a bad tent or break it in the folding process.
【Lightweight & Service Guarantee】: 150x120x105cm,200x150x110cm, please feel free to contact us if you have any doubt.