Setting up an
outdoor tent
is an essential skill for anyone who loves camping, hiking, or other outdoor adventures. While it may seem like a daunting task, it can be done easily by following a few simple steps.
Step 1: Choose a suitable location
The first step is to choose a level, flat area to set up your tent. Avoid areas with rocks, sticks, or other sharp objects that could damage the tent.
Step 2: Unpack the tent
Unpack the tent and lay it out on the ground. Make sure all the necessary components are present.
Step 3: Lay out the groundsheet
Lay out the groundsheet in the chosen location. This will protect the tent from moisture and dirt.
Step 4: Connect the poles
Connect the tent poles together and slide them through the sleeves or attach them to the clips on the tent body.
Step 5: Raise the tent
With the poles in place, gently lift the tent body up and secure it to the poles. Ensure that the tent is centered and the poles are straight.
Step 6: Stabilize the tent
Stabilize the tent by securing the guylines to the ground using tent stakes. This will prevent the tent from shifting or collapsing.
Step 7: Secure the rainfly
If the tent has a rainfly, secure it over the tent body. This will protect the tent from rain or dew.
Step 8: Adjust the tension
Adjust the tension on the guylines to ensure the tent is taut and stable.
Step 9: Test for stability
Give the tent a gentle shake to test its stability. Adjust the guylines or stakes if necessary.
Step 10: Enjoy your tent
Your outdoor tent is now set up and ready for use! Enjoy your adventure, and remember to take down and store the tent properly after use.
By following these 10 easy steps, you can set up your outdoor tent quickly and easily, ensuring a comfortable and enjoyable outdoor experience.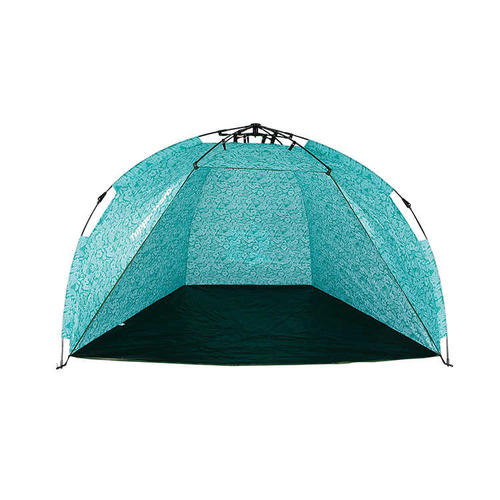 Outdoor Activities Protection & Great Ventilation - Premium sun-proof fabrics provide great UV protection from the sun and the large roll up windows provide the needed airflow to stay cool inside the tent
Extra Space & Privacy Option - An extended front floor provides more space, making the perfect place to set up a picnic. Zip up the floor for convenient private moment protection such as when changing swimming suits or breastfeeding
Place of Origin: Zhejiang, China
Brand Name: Hengyang
Model Number: HYT007
Product name:HYT007 Automatic Leisure Tent with Pattern Printed
Color: Customized, To order
Fabric:170T/190T/210T polyester, 170T/190T/210T polyester
Bottom Waterproof Index: <1000 mm, 1000-1500 Mm, 1500-2000 mm